McDonald's Secret Menu Items: When it comes to fast-food companies, McDonald's is one of the biggest names in this category. The brand is so much popular that it is considered to be the world's largest restaurant chain by revenue, and serves more than 69 million customers on day to day basis in more than 100 countries all over 37,855 outlets, as of 2018.
It is a very popular and well-known American fast food company that was founded in the year 1940. McDonald's had its original headquarters in Oak Brook, Illinois, but at the same time moved its global headquarters to Chicago in early 2018.
As far as its menu is concerned, McDonald's is best known for its hamburgers, cheeseburgers as well as french fries. Not only this, but they also feature chicken products, breakfast items, soft drinks, milkshakes, wraps, as well as desserts. The company has also added healthy food to its menus such as salads, fish, smoothies, and fruit.
Well, if you already like McDonald's menu items, then you must be pretty amazed that McDonald's also has a secret menu which is as popular and delicious as its regular menu is. McDonald's Secret Menu is the customization to the regular menu and it tastes very delicious. McDonald's Secret Menu is simply just a hidden menu of the McDonald's that you will not find in their main usually used menu.
The McDonald's Secret Menu, on the other hand, has generated a lot of hype in recent times, with headlines airing its big-name secret menu items such as the McGangBang, the Monster Mac and McKinley Mac as some of the favourites on their secret list of combinations.
If you are also one of them who are searching for the same, then carry on reading the further article until the end. Today, we are going to provide you with the right sources and information in order to check and know about the McDonald's Secret Menu for your next purchase. So let's get started….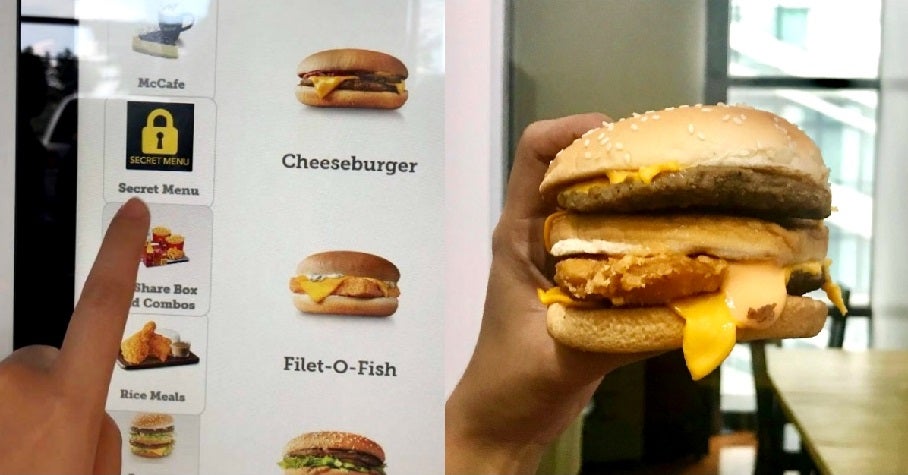 Big McChicken
The concept behind this amazing lip-smacking delight is quite similar to that of KFC's infamous "Double Down" packs beef between McDonald's' tender McChicken patties.
This secret item in McDonald's menu comes with the ability to pack either a Big Mac or a McDouble between the chicken patties. This amazing delight is going to cost you $6.99 (With Big Mac) and $4.00 (With McDouble).
The Monster Mac
This giant burger is topped with eight beef patties, yes you heard it right, it consists of eight beef patties and requires a knife and fork to eat. The Monster Mac is going to cost you just $6.49.
To order this jaw-dropping creation, you just simply have to ask for the Monster Mac, or if in case they aren't sure, then simply say you want a Big Mac with eight patties.
Big Mac Sauce Fries
Get this all new crispy golden french fries eating experience with Big Mac Sauce Fries. Most of the time, they are not even going to charge you extra; you just have to ask for the Big Mac sauce on the side when you order your fries.
The McGangBang
However, its name might sound quite weird but this delicious meat combo is a huge meal, giving you a lot of blast of flavours inside your mouth. It is only going to cost you $2.00 and you can enjoy this delicious delight.
It is quite popular McDonald's Secret menu items and for ordering this all you have to do is to just order a McDouble and a McChicken, both on the dollar menu, as well as put the McChicken between the beef patties for trying it yourself. In addition to that, it is also a cost-effective way of getting a burger that outsizes a Big Mac.
Fresh Chicken Nuggets
This is definitely going to satisfy the cravings of any chicken nuggets lover. Just make sure that your nuggets are made fresh and are not just made in large batches and kept under a heater for serving. It will taste much better if it is freshly prepared.
The McLeprechaun Shake
The cost of this shake will differ on the basis of the glass size such as Small will cost $1.99, Medium $2.49 and the Large will be available at $2.89. One must make sure that it is only available in the month of March, this enjoyable Mcdonalds mashup blends the Shamrock Shake with a Chocolate Shake, that forms the ultimate minty delight.
For anyone who is a chocolate chip ice cream fan, this smooth, delicious shake is best for you which you can get in just a few bucks.
The Pie McFlurry
Enjoy this slice of warm, soft, sweet pie that is blended into the McFlurry ice cream, which makes the ultimate hot-cold combination of flavours. It's a must-try delight that you would surely enjoy. The Regular one will be $3.39, while the Snack Size is going to be available at $2.69.
The McKinley Mac
This big mac packs in 1/2 pound of meat which makes this a hearty meal, especially for the meat lover. For ordering this amazing meal, just simply ask for a Big Mac with quarter-pound beef patties. The McKinley Mac is only going to cost you $4.49. The typical Big Mac, include two 1.6 oz 100% beef patties, and there is nearly no match to its popularity among fast-food companies that are located all across the world.
The 2 Cheeseburger Meal
This amazing delicacy was once used to be on McDonald's' old menu, but now you can get it in the secret menu of McDonald's' and it doesn't even cost you much. Get this $4.69 delicious meal with two classic cheeseburgers, fries, and a drink, adding that additional bit that is going to make the bigger eaters full as can be.
Conclusion
In this article, we have discussed many things about McDonalds' Secret Menu. Hopefully, this information will be beneficial for you. I hope this article has helped you to know more about McDonalds' Secret Menu. Let us know in the comments section how the experience with McDonald's' Secret Menu goes for you.